Dawn Cady | Speaker
An unforgettable keynote speaker for any audience
An accomplished healer and coach in the Blue Mountains and Sydney, Dawn is a highly sought after, world-class speaker whose expert storytelling ability brings personal experience to life.
Dawn is able to communicate her extensive knowledge of related topics in a way that enables participants to understand their bodies and how to help heal them. Going even further, she inspires people to want to be better, healthier versions of their current selves.
Dawn Cady is available for speaking engagements including business conferences, associations and public seminars, as well as webinar and teleconference events.
Looking for a great keynote speaker?
Dr. Phil has attracted a wide TV audience with his down-to-earth approach to mental health…here being interviewed by Dawn Cady — they find themselves in agreement about key points relating to pain. 2018, LA, USA
42% of the South Africa population suffers from chronic pain. Dawn Cady explained the science behind chronic pain and taught effective treatment to beat the pain forever. 2019, Johannesburg, SA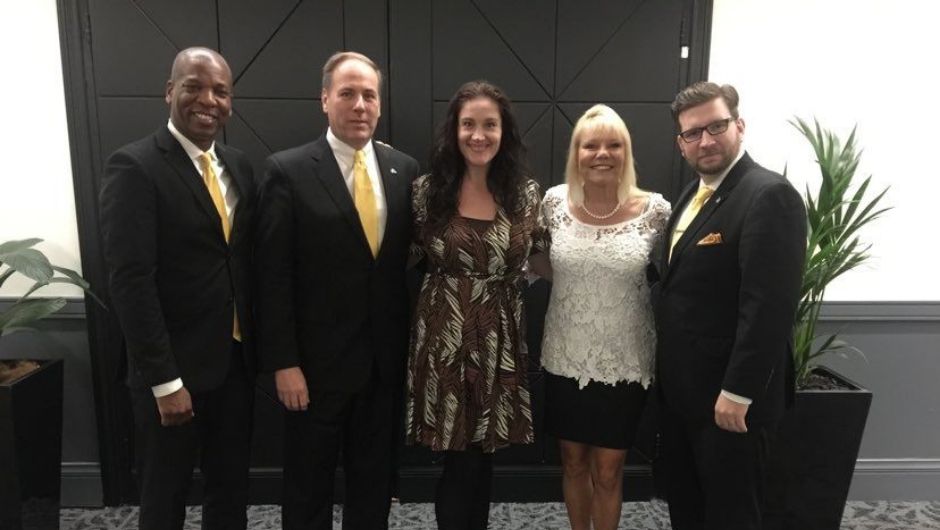 Left mindset coach Reggie Batts, business coach Kevin Friend, speaker coach Cherie Eilertsen, right marketing coach Myron Allis they coach the top 1% of the world: the people I had mentor me to bring Alleviate Pain Globally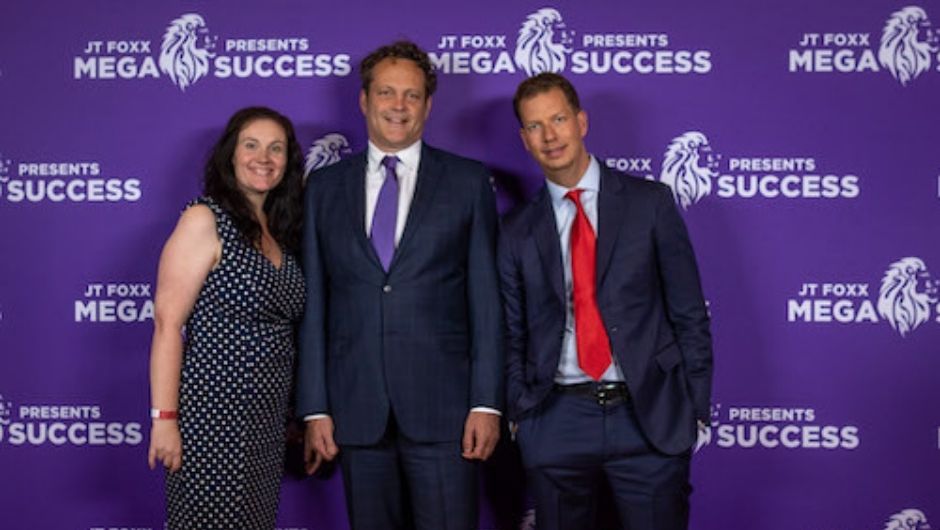 Vince Vaughn and my business coach JT Foxx. 2018 at the Business Conference in LA, USA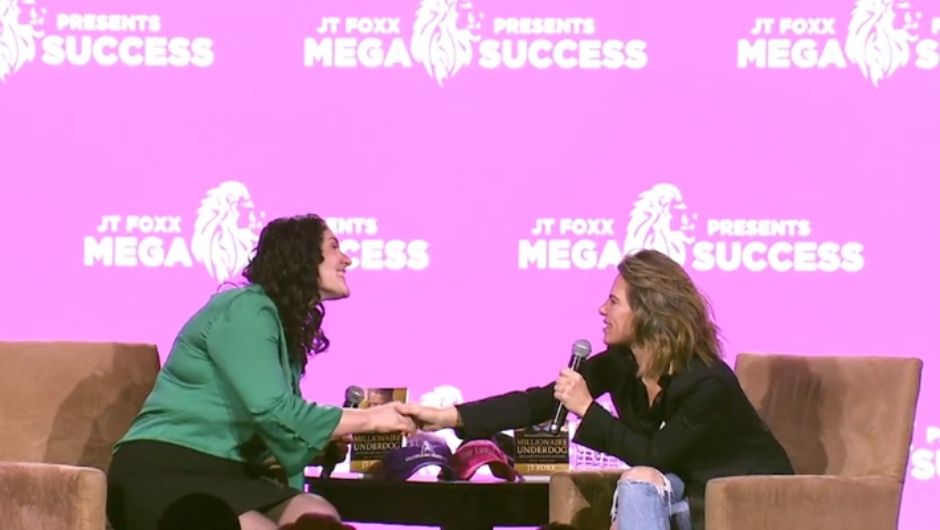 Interviewing Jillian Michaels about life extreme stress situations. JT FOXX MEGA SUCCESS 2019, LA, USA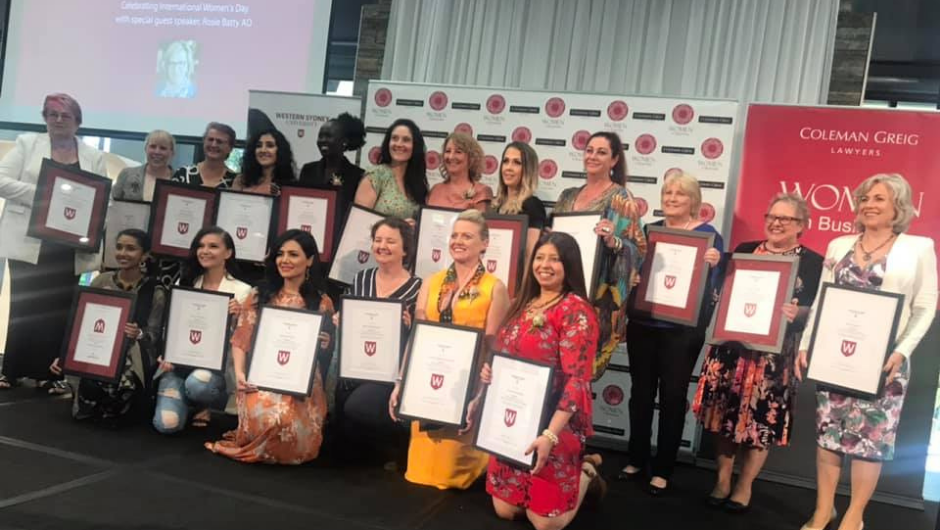 Dawn Cady is an active member and keynote speaker of local business communities and events. Woman in Business Event 2020, Sydney, Australia
Brave Magazine September 2019 issue
I was fortunate enough to be able to recently contribute an article to the Brave – Altitude Monthly Magazine. This provides an insight into my mission to help as many people as possible to alleviate their pain.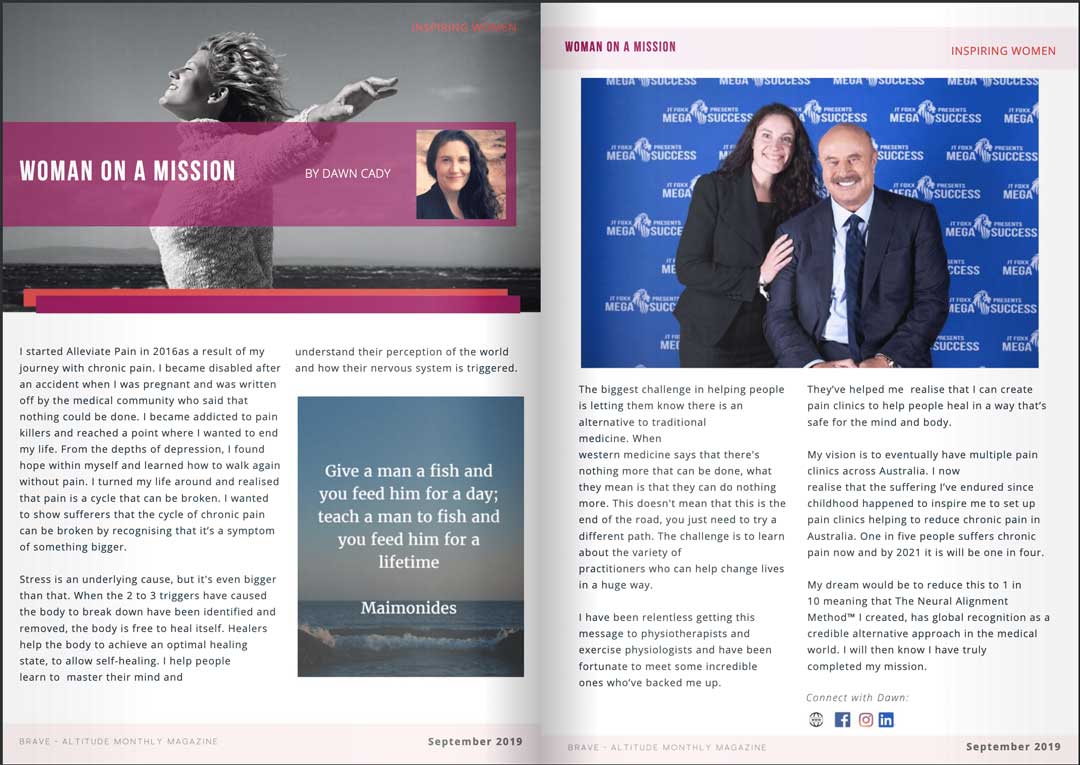 Looking for a great keynote speaker?